Zaidan Performs Well For Ireland: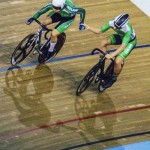 Arcane Cycling Team Rider Darragh Zaidan traveled to London's Lee Valley Velodrome this weekend to partner with Xeno Young and represent Ireland at round 1 of the 2017/18 Revolution Series.
Darragh was racing in the Elite Endurance Programme alongside many past and present World and Olympic Champions .
The young Internationals had a program of a 25km Points Race
, Elimination Scratch Race , 
Madsion Kilo TT 
, Team Elimination 
10km , Scratch Race – over the course of a long day of racing  .
The racing was fast and furious from the off with a ferocious pace set in the opening points race. Darragh made an error in judgement  (Gear Choice) and made a disappointing start to proceedings,  but as expected he dusted himself off and got on with the racing.
Next up was the Elimination Scratch Race; 20 laps split into a 10lap elimination race with one rider out every lap followed by a 10-lap scratch race for the remaining 14 riders. A fast start ensued with riders battling for position to avoid being eliminated. Darragh survived lap after lap,  and with 4 laps of the elimination race to go he made a move over the top and stayed at the front until the scratch race began.
The speed was on and getting faster, Darragh paid for his efforts to stay in the race but held on for 10th place and got Team Ireland's only points on the board.
Session 2 began with a Madison Kilo TT for the Elite Men. Team Ireland were up in the first heat and put in a reasonable time given the fact that they haven't done Madison together since the same event last year but not enough for a high placing.
The penultimate event of the evening was a Team Elimination Race (a Madison elimination race, with a team eliminated every 3rd lap) where again a lack of experience and time together cost the Irish boys as they were the second team eliminated.
The final event was a 10km scratch race which was again run off at a frantic pace; lined out from the off with speeds touching over 60mk/h at times. Darragh was riding well and holding his own in the race until around 12 laps to go when a young rider in front of him let the wheel in front go and at those speeds Darragh was unable to close the gap and rode around to finish a credible 21st.
A good performance from Darragh and Xeno considering the short time frame to the event .
Darragh would like to thank Cycling Ireland , and the Track Commission for their continued support and selection .
Photo by : Kyle English