Arcane Cycling Teams Tony Mairs travelled to the Chris Hoy Velodrome in Glasgow on Saturday (December 9th) for the Open Team Sprint Event.
Mairs was competing on a composite Team with Scottish Champion and development rider Jamie Alexander and Jeremy Franks of City of Edinburgh RC.
ACTs Multi Irish National Champion does not have a lot of experience of Indoor racing , but done enough to help his team take the win.
Tony will continue to work on his Indoor skills over the winter , and hopes to replicate his impressive outdoor achievements (Multi Irish Medallist , Irish Champion , Irish Record Holder) on the British Velodromes in the coming months.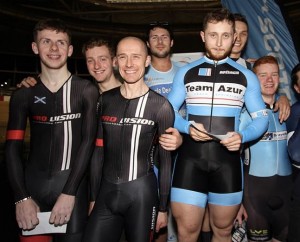 Full Results & Report To Follow:
Pictures by Mark from The Press Room :