Zaidan Performs Well In Italy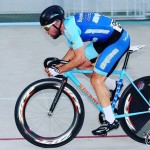 Race Report By Darragh Zaidan :
Day 1: Individual Pursuit. 
Day 1 of the week saw me compete in the Individual Pursuit against a stacked field which consisted of riders such as local World Champion Fillipo Ganna, Ellia Viviana, Nick Kergozou (Member of NZ TP World Championship winning Team) and many others.
I knew it was an impossible task to qualify for the ride offs against such a quality field, however I took to the start hoping to do a solid ride and ideally an outdoor PB. ??Unfortunately, some travel delays meant that I arrived to the track as the sprints were taking place and I was unable to ride the track prior to my heat against Liam Bertazzo (Italy TP member) who would go on to finish 2nd to Ganna.
I warmed up well and took my start position in the sweltering afternoon heat. ??I started well and was up for the first half of the ride but I quickly found myself struggling to get comfortable on my skis (set-up was off slightly after setting up in a rush from my bike box) and the strange and bumpy track didn't help matters.
I was very disappointed with my time of 5:02 as I knew I had the legs to go much faster. However, I didn't have time to dwell on it as I had plenty of more racing to go.
Day 4: Omnium Qualifier and events 1-3.
The racing got underway with a 15km points race to qualify for the omnium with over 50 riders entered, there were 2 heats and top 12 in each qualify in to the omnium proper.
I knew I would have to ride a smart race here to qualify against another World Class field.
I got into a couple of early moves and picked up some points before settling back into the bunch and recovering.
I rode quite conservatively for the remainder, watching who was taking points and I knew I had done enough to qualify and taking some scalps along the way.
Omnium; Scratch Race:
The scratch race was a hectic affair. My legs felt good and I was riding well. I got into some dangerous moves and was riding well alongside such a stacked field but I got a little carried away.
My confidence was sky high as I followed moves comfortably and was mixing it with the big guys but as the race wore on and the pace ramped up, I would end up paying for my over exuberance and finish down in the standings. ??
Individual Pursuit:
Having raced hard in the scratch race and losing a lot of points and with an elimination to follow, I decided to ride a conservative pursuit. My set up was dialled to perfection following the cock up earlier in the week and I cruised to a 4:58.
It was nice to do a decent ride at 85% but I couldn't help but think "what if" had day 1 gone better. ??
Elimination Race:
I started from the back of the grid. I quickly moved up and held my own for the first few laps before getting chopped by an Italian rider and ultimately going out earlier than I would have liked too – but I was happy to end the day feeling good.
Day 5: Omnium Day 2
This is my least favourite day of the omnium especially at World Class level, as this is where the specialists really stand out. ??
Kilo TT: Finishing in a time of 1:13. Not great but not bad. Similar time to what I can expect to do outdoors. ??
Flying Lap (400m) ??Full flying lap here instead of the usual 250m and still down in the standing, I just went through the motions as I was beginning to become anxious about the 40km points race. ??
Points Race:The points race was flat out from the gun. I rode a conservative race here as I knew it was going to be long and hard race. I was comfortable and able to hold my own throughout but I was unable to really compete in the early part of the race.
As the race wore on, I started to find my legs, clipping off in some moves and bridging across to a dangerous break on my own in the last 10 laps but it was too little too late .
All in all, I was happy to qualify for the Omnium as there were some top class riders who missed out. It was always going to be hard to compete against these guys but I was able to hold my own in the bunch races which boosted my morale and confidence and I know with more track time and specific training that my times in the events against the clock will improve.
Day 6; Scratch and Points Race Qualifiers.
The final day of racing was to be the most brutal. With a tough couple of days before hand and many riders turning up just to ride today I knew it would be tough to qualify but as it was the final day I was going to die trying. ??
The 10km scratch race qualifier was first. It was absolute carnage! One of the most aggressive races that I have raced in. Attack after attack, break after break nothing was really sticking until the halfway mark when I clipped off the front with one of Kazak riders.
We rode flat out together, sharing the workload but not gaining much ground.
A group of 5 riders came across to us and then the working stopped.
We got swallowed up by the bunch and it was here that the counter attack stuck and the bunch split to pieces.
I would go on to finish 16th of 30 riders but failing to qualify as it was the top 12 who did. ??
The 15km points race qualifier was another brutal affair. This time small groups kept getting away and taking points, teams were riding for each other and leading their main rider out for sprints. My legs couldn't cash the cheques that my brain was writing and I would fail to score points and qualify but I took solace in the fact that again I was able to ride reasonably comfortably and mix it with such world class riders .
I know there is still a lot of learning and work to do before I can really compete at this level. ?
So all in all, I had a fantastic week of racing. The experience and learning that I gained from racing in such a field is priceless and will benefit me greatly going forward.