How To Start Track Cycling: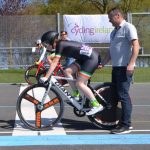 What is Track Cycling ?
Track Cycling is an exhilarating bicycle racing sport usually held on specially built banked tracks or velodromes using track bicycles. The bicycles are fixed gear bikes with no brakes, the bike is propelled or slowed down by the pedal strokes of the cyclist.
In Ireland there are three outdoor velodromes:
Eamonn Ceannt Park, Sundrive Road, Crumlin, Dublin 12
Orangefield, Belfast
Kanturk, Co. Cork
Despite not having an indoor velodrome yet, Ireland has some very successful female track cyclists, including Olympians and World Medallists
Track cycling is a great way to keep fit and throughout  the season  . There are often sessions twice a week. You can take part in these sessions even if you do not want to race.
Tack racing is extremely safe. All riders must be accredited before they can take part in group activity and all sessions are monitored by  experienced coaches.
Arcane C.T. host Women Only Track Training Days to get riders started
What bike do I need?
A track bicycle or track bike is a bicycle optimized for racing at a velodrome or outdoor track. Unlike road bicycles, the track bike is a fixed-gear bicycle and so has a single gear and neither freewheel nor brakes.
Track Bikes are available to hire for small fee at most Velodromes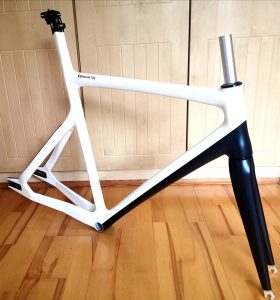 What gear do I need?
Cycling Shorts & Jersey
Helmet (These can be hired at the Velodrome)
Cycling Shoes (These can be hired at the Velodrome)
Who can I ride Track with?
Arcane C.T. can help you find a local club that have a focus on Women's Track Cycling – contact us for information
How can I start racing Track?
The Track  Calendar will have upcoming race dates & events.
Sundrive Velodrome host beginner races/leagues throughout the Summer & Autumn
Visit Trackcycling.ie for more information about Track Cycling
Below is a list of some of the races that take place on the track.

Sprint Races: 
Sprint races are generally between 8 and 10 laps in length and focus on raw sprinting power and race tactics over a small number of laps to defeat opponents. Sprint riders will train specifically to compete in races of this length and will not compete in longer endurance races.
Main Sprint Events  
Sprint
Team sprint
Keirin
Track time trial
Endurance Races

Endurance races are held over much longer distances. While these primarily test the riders endurance abilities, the ability to sprint effectively is also required in the Madison, Points Race and Scratch Race. The length of these races varies from 12–16 laps for the Individual and Team Pursuit races, up to 200 laps for a full length Madison race in World Championships or Olympic Games.
Main Endurance Events 
Individual pursuit
Team pursuit
Scratch race
Points race
Madison
Omnium
Email us for further information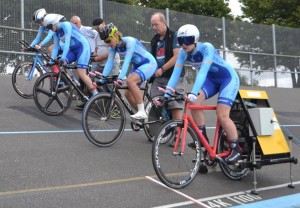 About Us:
Coaching Services / Bike Skills / Training Plans.
We have coached more Irish Cycling Champions , and have won more National Medals than any other Irish Cycling Coach in the past 20 years , our riders continue to race & win at the highest level .
We also carry out Cycling Skills and coaching sessions for young and old (Private and Group Bookings).
We can provide a Cycling Ireland Road and Track Coach, with years of Elite level experience (Male or Female) for your booking .
School Sessions are also available (Bikes and equipment included).
Whether you would like to improve your training, or just learn how to ride your first bike – Contact us for details.