Rider Race Report From Worlds: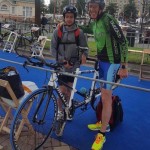 Arcane Cycling Teams Donnacha McCarthy & Dave Tilly came home in 4th place in the ITU World Championships in Rotterdam on their Tandem – A remarkable achievement after suffering a major Bike crash in training on the days leading up to the event  . Rider Race Report from Donnacha:
"Well Rotterdam it was a pleasure, a 4th place finish in my first ITU event. Even though it wasn't the result I wanted or the performance I expected or I know I'm capable of it was still an amazing experience and a massive learning curve and another stepping stone towards climbing those world rankings! Huge congrads to all my Irish team mates who put in superb performances in their various categories, especially to Tojo Lazzari who represented the Green, White and Gold on the podium.
While this brings to a close my triathlon adventure for 2017 it all wouldn't be possible without the help and support of so many people including my wonderful family and friends and many well wishers, Dave Tilly who showed me the ropes and guided me in every race this season as well as Eamonn Tilley who provided me with opportunity to race at this level. Big shout out too to Brendan Whelan of Bicycle Design Centre who got the bike race ready and to all my Vodafone Irelandcolleagues who supported me during the year! "
Now just to get those winter miles in!
😅 #OnwardsAndUpwards