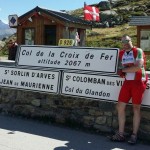 Arcane Cycling Team are delighted to announce the signing of Marc O'Brien to the 2016 Road & Track Team.
Marc impressed the ACT coaches at one of our Introduction to Track Cycling days at Sundrive Velodrome last October , an although he was new to the Track , he posted some very impressive times on a Hire Bike.
Marc is very competitive & ambitious and expressed an interest in trying out for our Multi National Medal winning 'Team Sprint' & 'Team Pursuit' Teams , and we were happy to sign him up once his current club (Clondalkin Cycling Club) gave him permission to talk to us.
Born in Waterford in 1980 ,Marc has recently got measured for his new Arcane Track Bike , and he should fit in well with our Team.
Name : Marc o Brien
Dob: 26/04/80
Born : Waterford
Married to : Noeleen
Children : Izabelle , Marc
Education : Waterford IT
Occupation : Trainer in community training centre
Ambition in life : To be the best husband and father I can be .
Ambition on the bike : Win , Be fast
Goals for next season : Win
Hobbies : Trying to answer all of my sons questions