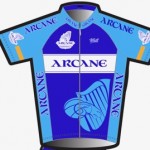 'Arcane Women's Cycling Team' will be officially launched in the coming weeks.
The Team is the brainchild of Grace Irvine , having conceived the idea after a Women's Commission Training Day at Finnstown Castle Hotel.
Grace had the idea of racing for fun with no pressure for results or performances. She decided that a team environment of like minded people is a better way of achieving this than four bunches of one.
A meeting was called for the following week in Lucan (Dublin) attended by Grace , Róisín Kennedy , Melanie Spath , Fran Meehan , Bernie McNally , Brendan Whelan and Martyn Irvine.
The Riders (All Former Internationals ) outlined their ideas for the team and agreed a format .
'Arcane Women's Cycling Team' have set a goal to compete in the 'Women's National Team Pursuit & 'Ras na mBan' for 2017.
The Team consisting of Multi National Medallists & Champions are preparing to race for fun .
'Arcane Women's Cycling Team' will be supported by Bicycle Design Centre , with Martyn Irvine as a co-sponsor .
Life Coach Bernie McNally will bring her experience to help the Team with their number one goals.