Hormonal Changes Affect Cycling Performance.Period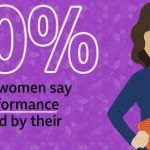 Why we should all be talking about Contraception: 
A 2019 survey recorded that 50% of elite athletes used hormonal contraception. 
We need to talk about the common myths and misuse of hormonal contraception in sport. 
Rather than the fluctuating hormonal profile experienced by women with a naturally occurring menstrual cycle, women using hormonal contraception get the same hormonal message delivered each day via synthetic hormones, which prevents pregnancy. 

Quick Guide to Contraception: what to do and what not to do… 
The more you know about the different contraception that is available, how it works and some of the potential side effects, the easier it is to make an informed decision about what is right for you. 
Decide what is acceptable to you. 
It's not one size fits all. Some women like the idea of a pill daily whilst others would prefer an injection every 3 months. Some women find the idea of a coil inserted into their womb grosses them out but an implant under the skin doesn't. There is no right or wrong – just find out what it right for you. 
It can take time to find the right contraceptive. I normally advise 3 months to see how things settle down. But you don't have to try it for this long if you are having troublesome side effects. 
Your GP will discuss all the pros and cons of each contraception with you and will need to do a risk assessment to find out what contraception you can have. 
Don't change your hormonal contraception (or start taking it) just before a big event in case of possible side effects.
Always allow some time to see whether it's the right fit for you, well ahead of significant events or competitions.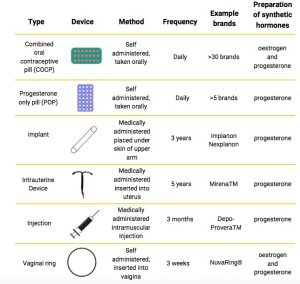 Don't read all the scare stories online.
If you google different contraceptives online you can freak yourself out listening to all the scare stories. The women that have amazing stories don't tend to write them up online so just have an open mind. Just because another women didn't get on with one type of contraceptive does not mean that you won't. 
Remember, hormonal contraception can't bring back a menstrual cycle that is supressed because of energy deficiency or any thing else that stops the body from producing your cycle hormones. 
Hormonal contraception isn't the only way to manage some cycle symptoms or to have a regular manageable cycle. Remember that diet, lifestyle, your training and recovery and how you are coping with stress all play a part in how you experience your cycle. 
Please don't stop or change your contraception without chatting to your Doctor first. 
All the options 
Hormonal Contraceptives are not the only option. 
There are many different reasons why women choose to use contraception, and these reasons can change and adapt depending on the stage of life and your individual circumstances. 
Hormonal contraception can be used as intended – to stop unwanted pregnancies – but it can also be used for many other medical conditions. 
Some women will try many different types of contraception before they find the one that really suits them. And some women would rather not take any medication and would prefer to use condoms or the 'natural method'. All of these are ok as long as they work for you as an individual. We are often influenced by our peers, family and friends but it is a very personal choice. 
Some women will be unable to take certain hormones due to their risk profiles, family history or other medical conditions. For anyone thinking of taking contraception it is important to emphasise that as a woman you don't have to take hormonal contraception if you don't want to and it is always encouraged to have all the information available so that you can make an informed decision. 
Natural Cycle Methods 
By tracking her cycle, a woman can identify on which days she is fertile. By abstaining on these days pregnancy can be avoided. 
Barrier Methods 
The most popular barrier methods are condoms, diaphragms, and caps. When used properly these methods can be as effective as hormonal contraception. 
Hormonal Contraception 
The majority of this article will be looking at hormonal contraception as these have the greatest impacts on athlete health and performance. However, over this course, it is important to remember that hormonal contraceptives are not the ONLY option for women, and natural and barrier methods are also effective. 
Hormonal Contraceptive Options 
We need to discuss how each contraception differs from the other and the positive or negative effects these can have on a female's physiology and her performance. 
Our main message when considering contraception and sport is that although there are benefits, there are also unwanted side effects to all types of contraception. If an athlete is considering changing contraception they should not do it before an important event, give at least 3 months for the new contraception to really settle down. And if a particular contraception is working with no adverse side effects, then maybe don't change at all. 
How do different Hormonal Contraceptives Work? 
All contraceptives work slightly differently. There are two main types of hormonal contraceptives. 
Combined Contraception (Oestrogen and Progestogen), can be administered as a pill (Oral Contraceptive Pill) or a patch. 

Progestogen-Only Contraception, which can come as a Pill or long-acting reversible contraception, such as Mirena coil, depo injection or implant. 
Oral Contraceptive Pill 
The Oral Contraceptive, or Combined Pill, suppresses natural hormones and replaces them with synthetic ones. As long as one pill is taken every day in a 24-hour window then the contraception is effective. 
Progesterone Only Pill 
This is a great option for someone who has migraines and so cannot take the combined pill 
However the window for taking this pill is shorter, it must be taken at the same time (within a 12-hour window) every day. So this may not be good for athletes who are travelling, or simply disorganised as they will not be protected against pregnancy. 
For some women, the progestogen-only Pill reduces monthly bleeds to almost nothing, so it is a good option to try for women with heavy periods but for other women they may find that they spot or have irregular bleeds. 
When a regular period can't be relied upon then keep a close eye out for other symptoms such as low concentration, reduced strength or coordination, weight loss, changes to mood, recurrent injury or underperformance.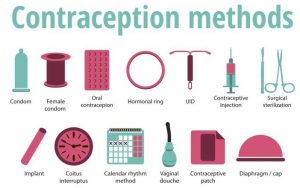 Long-Acting Reversible Contraception – "Fit and forget" 
These contraceptions have to be administered by a medical professional, however, once they are done they can be forgotten about until they need replacing! 
Replaced every 5 years 
A T-shaped plastic device that sits in the uterus, once it is inserted it releases progestogen very slowly all the time. This localised progestogen holds the uterus lining in a very thing, healthy state. 
Women with the Mirena Coil do still have a cycle because the progestogen is a very low dose and just in the uterus so it does not suppress the hormones in the rest of the body. So women who have the coil can have no periods but still have a healthy hormone cycle. You can still track the cycle using ovulation pain. 
The Mirena is very cost-effective and environmentally friendly as you do not have to buy sanitary products. 
Implant Replaced every 3 years 
The implant goes in the arm, and so can be more comfortable to fit as it does not need to be inserted into the uterus. 
If the implant doesn't work for you the it can be removed straight away and any side effects you were experiencing go away with it. 
Injected every 3 months, there are two main types used, one has to be administered by a nurse, the other called Sayana-press can be self-administered at home every 3 months. 
If you do have negative side effects with the depo injection, there is no way to take it out or remove it, so they will likely last for 3 months until the effect wears off. 
This is a really well-tolerated and widely used contraceptive, however, it has bone density side effects which may make it unsuitable for many athletes. 
Cycle Symptoms 
For some women cycle, symptoms can be debilitating and detrimental to sporting performance. 
Hormonal Contraceptives have their place in helping to control some of these symptoms, although the underlying cause should always be identified. 
These will not impact the cycle, and so will not treat any cycle symptoms. 
Combined Oral Contraceptive Pill 
The Combined pill (Oestrogen and progesterone) has many medical indications. 
It can be used to treat heavy, painful periods, to reduce premenstrual tension, reduce ovarian cysts and reduce the risk of pelvic inflammatory disease. There is also evidence that the combined pill can reduce the risk of ovarian and endometrial cancer. 
There are many different types of Combined pill and different pills can also be used to manage conditions such as acne, endometriosis and Polycystic Ovarian Syndrome. Before being prescribed this pill the individual will need to have a risk assessment with their doctor as it is may not be suitable for women who have certain conditions such as migraines, high blood pressure, or who are smokers. For some women the Combined pill may be contraindicated and an alternative method or treatment may need to be sought.  
The IUD (Intra-Uterine Progestogen-only Device) 
There are different devices – for example the Mirena, Jaydess and Levosert. The progestogen in the device tells the uterus lining to shed, so for the first 3 months many women will have some vaginal spotting (some women may experience bleeding for up to 6 months after insertion some women do not bleed at all). After the lining has shed, the progestogen from the device holds the lining in a very thin healthy state, so many women find they have very light, very infrequent periods or no periods at all. 
The Mirena Coil has 3 indications, 
As a contraception, 

As the progesterone past of HRT (hormone replacement therapy) and 

For the treatment of heavy periods. 
Implant 
The Implant is a small plastic rod, about the size of a match-stick, that is inserted under the skin on the inside of your upper arm. There is progesterone impregnated within the plastic that is gradually released over the 3 year period. This hormone will suppress the natural hormonal cycle and will stop ovulation. Similar to other Progesterone- only methods women often find their periods become lighter or stop. Other women however may find they have regular spotting or irregular bleeds. 
Depo Injection 
The Depo injection is administered every 3 months by a nurse or Sayana-Press is self- administered at home if preferred. Some women find their periods are lighter or completely stop with the depot. But there are other women who find they bleed or spot. 
Side effects of Contraception 
All medications can have side effects and can affect individuals in different ways. Medications can also interact with other medications or can exacerbate other medical conditions and these need to be taken into account when being prescribed. Contraception is no different and each individual can report different side effects. Some women report side effects such as: 
Acne

fluid retention

headaches

nausea 

Migraines

Mood swings

Low mood

Weight gain and many more…. 
These will be different for every woman, however, most contraceptives can be stopped quickly if side effects are an issue. 
There may also be increased risks of high blood pressure, blood clots and breast cancer so a risk assessment with be carried out for each individual when deciding the best form of contraception. 
In most cases it is worth trying the different methods of contraception for around 3 months to give the medication and side effects a chance to settle down before changing, however if the side effects are severe or persistent then The Pills can be stopped immediately and the Coil and Implant can be removed. 
Once removed then the side effects should immediately disappear. One of the downsides to the Depo Injection is that once it has been injected it can not be removed and so must be tolerated for 3 months until the side effects wear off. 
The only side effects of barrier methods are that they may cause some irritation, allergy or sensitivity reaction locally to the vagina or vulva. 
Regular periods are an indicator of good health in women. Losing the menstrual cycle is often a warning sign that there is something seriously wrong with an athlete's health. Many types of contraception change the menstrual cycle and so make it harder to spot cases (as well as other conditions). However, it is important to bear in mind the primary role of contraception is the avoidance of unwanted pregnancy, therefore athletes should select the most effective contraception for them, and then be aware of the risks secondarily. 
Barrier Methods of Contraception 
These do not change the menstrual cycle, therefore periods are natural periods and can function as a useful sign of health. 
Oral Contraceptive Pill 
The bleeds on the Oral Contraceptive Pill are not real periods. Traditionally the combined pill is taken for 21 days, with a 7 day break, however some women take 3 packets back to back (this is called tricycling) and have a 4 day withdrawal bleed every 63 days, or some women take the pill continuously and never have a break. All of these options are safe and up to the individual and their lifestyle. When the pill is stopped for 4-7 days, the hormone levels in the body drop and this causes a withdrawal bleed. This is not a real period and therefore this can not be relied on as a 'sign of good health' and does not necessarily mean that the athlete is healthy. Periods are valuable signs of health, and the combined pill can cover up conditions so it is important to be aware of this when taking the pill 
Contraception and Bone Density 
The Depo Injection and Bone Density 
A 2008 study found "Significant loss of bone mineral density with the Depo Injection" 
The 2014 Cochrane Review found that it may alter bone mineral density but how this translates in clinical term is unknown because no data on fracture rates with the hormone injection is available. 
The Combined Pill and Bone Density 
In adolescent girls, combined oral contraceptives could have a negative effect on bone health when they are used within three years of starting her periods and when the dosage of ethinyl estradiol 20 mcg or more.
======================================
COACHING SERVICES
Click Here For Coaching Services:
We have coached more Irish Cycling Champions , and have won more National Medals than any other Irish Cycling Coach in the past 20 years , our riders continue to race & win at the highest level .
We also carry out Cycling Skills and coaching sessions for young and old (Private and Group Bookings).
We can provide a Cycling Ireland Road and Track Coach, with years of Elite level experience (Male or Female) for your booking .
School Sessions are also available (Bikes and equipment included).
Whether you would like to improve your training, or just learn how to ride your first bike – Contact us for details.