Grennell Performs Well In Wales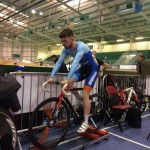 Arcane Cycling Teams young Elite rider Andre Grennell was thrown in at the deep end at the Newport G.P.
Andre travelled to the Welsh National Velodrome last weekend (Nov 12th ) for the Newport Grand Prix.
Andre had just returned from a 'Sundrive Track Team' Track training camp at Alkmaar Velodrome in Holland, and was looking forward to racing at an Elite level in an established British event.
Andre had a hectic schedule with five races scheduled; The Scratch Race, Points Race, Unknown Distance, Elimination, and the last race over 100 laps, the Newport GP.
The young Senior  has quickly adapted to the life of an Elite rider , and after finally finding his way to the Velodrome he was not surprised when he found out the level of rider he would face over the five races.
In his own words :
"When you arrive at the velodrome you realise this is serious stuff. We were there at 2:45pm and Even though sign on was at 3:30pm and racing was not scheduled to start until 5pm the place was full of riders. They were already set up. The first thing I noticed about the riders was they could all ride rollers with no hands, and look at their mobiles at the same time. They must have been born on bikes I thought
The sprinters were first to get off. The fastest flying 200 was about 11.2 seconds, that's about 64kms per hour. Fast!
The women were next and they weren't messing around either.
Then  it was my turn, a Ten lap scratch race – A warm up I thought….  It was 100% from the start.  At only about lap 5 we passed some riders on the inside, that were lapped and dropping out.
I don't know where I finished – but I finished & got through my first real Elite Track Race.
The next race was the points race. This was 40 laps with sprints every 10 laps. This race was even faster than the first one. A Rider from Pedal Heaven was driving from the front.  I had been warned about this from my Coaches at ACT – This is not like riding in Ireland where after the first sprint everyone slows. Here it gets faster.
Then there was a crash and we slowed. But you can't use the word slow to describe what happened  , we just eased up a little and waited for the whistle and it was full gas again.
I finished the race and my name was on the screen as T22.
At this stage I was beginning to wonder what I was doing here.
Next up was the Unknown Distance Race , and I was not too bad. it was short.
I was looking really forward to the Elimination Race , I seem to be developing as a Sprinter , and I can get to the line quickly when I have to.
However – This race was so fast, that being able to sprint was of no use. The last man past the line each lap is eliminated, and whoever was droning the race was making sure there was no doubt about who was staying in , and who was out..
Suddenly there was a crash behind me, 4 or 5 riders down and the page eased up. This time though the race was called off and restarted 5 minutes later with the remainder of the riders, including me, onto the track.
I was eliminated after the second lap of the restart. My legs just gave up, no matter how hard I tried I was not going to survive. I just let them go. I needed food and water. Maybe even a bed. it was now 9:30pm and we'd been there since 2:45 almost 7 hours, and people were leaving.
The final event was not too bad. I had already done 100 laps at an average speed of about 47kms per hour. We were rolling around at a respectable pace we were all taking our turns and I fancied I'd survive and finish the race. Then with 25 laps to go someone opened the throttle and a load of us began to struggle.
I'm looking for a wheel to follow, someone is following my wheel, gaps are appearing all over the place. Suddenly if you turn your head you can see the leaders on the other side. Your heart tells your head (Its only 250 m) , or is it the other way round, this is going to hurt, and it does.
This is the hardest racing I have ever done in my short cycling career. ..You give up eventually. Actually give up is not correct. You don't make a conscious decision to stop. It just happens, you gradually slow down, but your effort increases. More effort for less result.
Suddenly it's over. For me it happened with 23 laps to go. I wasn't the first to crack and at the bell there weren't many left to contest for places.
I sat on the chair exhausted. My calves were like concrete my mind was numb. I packed up, shook hands with the organiser , and I will be back ".