Gilmore Earns His Upgrade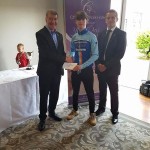 ACTs Sam Gilmore took an excellent 2nd prize on the hilly Stage 3 of the Charleville 2 Day to guarantee an upgrade to the A2 Ranks for 2018. Gilmore has been on great form recently , and had set a goal of upgrading before the end of the season.
Gilmore will join his team mate Andre Grenell (Recently upgraded & Current National Madison Silver Medallist) in the 2nd rank of Irish cycling for the remainder of 2017.
Both young riders will spend the winter training abroad with some of their more senior Team mates , and hope to hit the 2018  racing season hard .
Sam & Andre will line out in the Leinster Track Championships next weekend before taking a well earned break.