Deadly Duo Target Newport G.P.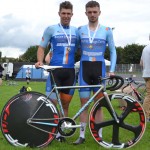 Arcane Cycling Track Team Riders Andre Grennell & Darragh Zaidan will travel to Wales on Friday for the Newport Grand Prix at the Welsh National Velodrome.
Joe Grennell will also travel to assist the riders with help and advice.
Both riders are no strangers to this event , and they will face a full programme of events from early Saturday morning, culminating in a 100 lap Scratch Race on Saturday night (9pm).
Andre got his first taste of National success recently , partnering his team mate and former International (& Multi Irish Champion) Darragh Zaidan to a Silver Medal in the National Madison Championships.
On his return , Grennell will fly out with Sam Gilmore for a few months of warm weather training to prepare for the 2018 Road Season.