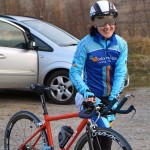 Kennedy Wins Boyne G.P.
Arcane Cycling Team Rider Róisín Kennedy took her first win of the new season in Slane on Sunday (March 15) in the Boyne Grand Prix.
Kennedy is sponsored by Kildare towns Bicycle Design Centre, and was riding on a specially designed Arcane Steel / Carbon Bike (Designed and Manufactured in Kildare).
Róisín attacked early on the first lap , quickly building a lead of several minutes at the finish of the 48 km event.
Róisín was delighted with her win – the multi National Medallist , and former International has now won Elite Women events for over 12 consecutive years on the domestic racing scene. 
Elite Women
1 Roisin Kennedy (Arcane CT)
2 Heather Crowley (DUCC)
3 Robin Crowley (DUCC)