Arcane Women's Team New Signing: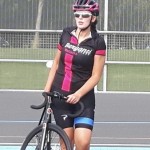 The Arcane Women's Team have asked Youth Rider Hannah Tilly to join them for the 2018 Season .
Hannah had been invited by ACT Track Coaches to train with our Elite Women at the ACT closed track training sessions on the run-in to the 'National Team Track championships' ,
The young rider stepped up to the challenge , and showed an impressive improvement at every session .
Hannah will be a Junior in 2018 , and she is now expected to challenge for a place on our Team Pursuit , and our  Team Sprint Teams .
The Arcane Women's Team , and Arcane Cycling Team would like to welcome Hannah to our roster .