Arcane Win National Title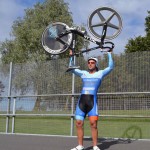 Arcane Cycling Team Won four Medals at the 'Elite National Team & Keirin Track Championships' at Sundrive velodrome on Saturday (Aug 5th) including a New National Champion.
Arcane CT had started a rebuilding process after last season ,  with the emphasis on a new Women's Team & a young Elite Senior mens Team.
The Arcane Women were the first in action in the Team Pursuit . The new Women's Team (Grace Irvine , Gill Haverty , Róisín Kennedy & Noreen Mallon) has been built from scratch this year , much of it due to the help and advice from their Track Coach Martyn Irvine.
The Women performed well on their National debut , finishing in fourth place , losing out to Cycling Irelands Talent ID , and the experienced Sundrive and Orwell Teams.
The riders have worked very hard to get to this stage , and expect to challenge for a medal in 2018.
The Mens Team Pursuit was next , and Darragh Zaidan led a completely new young Team ( Kyle Crotty , Andre Grennell, Sam Gilmore ) home in under 5 mins in 6th place . This Team had an average age of only 19 ,  and a lot is expected in the coming years.
Grace Irvine and Gill Haverty then set a time good enough for 5th in the Women's Team Sprint.
Grace followed this up by Winning the B Final in the Keirin for 7th place with her Team mate Haverty in 11th.
Zaidan led the first of our Mens Team Sprint teams home also in fifth place (Grennell / Crotty ).
ACT Veteran Brendan Whelan lined up with Tony Mairs and new Sprint rider Robert Deegan to set throw last years winners (Sundrive Track Team) off the top with new fastest time of the day with only one team remaining .
However , the UK based Black Line Team (With our Former Arcane Team riders Leahy & Collins)  went narrowly faster , leaving the Arcane trio with an Elite National Silver medal.
The best from Tony Mairs was yet to come , and the National Record holder and Multi National Medallist finally earned his National Champion status winning Gold in the Keirin by a long margin against some of the best Irish sprinters in years .
Arcane placed two riders in the Final with Robert Deegan taking a well earned 6th place overall behind our new Irish Champion.
A massive thank you to our Support Team and Coaches , especially Marc O'Brien – who helped every rider on the day , including being the Coach of one of the Medallists.