Arcane CT Open For Membership: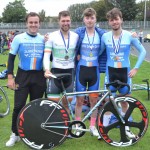 The Arcane Cycling Team are now open for membership applications for the first time ever.
If you have won a National Medal on the Track in the last ten years, it is more than likely that you were riding for, or were coached by the Arcane Cycling Team.
ACT have operated on an invite only policy until now, but will open membership applications for a short period.
We have already added exciting new additions to our Women's Team, and we are hoping to also rejuvenate our multi National Medal Winning Mens Team over the Winter period.
We are seeking applicants from men and women that will race both on Road & Track, and are willing to commit to our Teams amazing record of Winning National Medals.
Click Here For Recent National Track Podiums:
Contact Us through our Websites or Social media.
Email: brendan.bicycledesigncentre@gmail.com