Irish Champion Performs Well In Belgium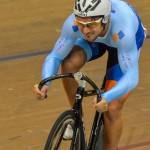 Belgian International Trackmeeting 2018.
Last weekend (27-28th January) Irish Sprint Champion Tony Mairs headed over to Ghent Belgium to compete in the first non six day UCI CL1 event of 2018.
Read His Race Report Below:
"I was going to be racing in the Elite Men's Match Sprint and Keirin, the competition was to be tough as I would be up against many of the top pro European sprinters including the likes of nine time World Champion Gregory Bauge of France and other World Champion medalists.  I was a part of a group of five Irish riders competing at the event and the only Men's sprinter on the squad competing for my club Arcane Cycling Team as the current Elite Men's Irish Champion in both events.
Three of the other riders Orla Walsh, Autumn Collins and Mia Griffin were coming off a training camp in Majorca and flew in directly from Palma to Brussels on the Thursday while first year senior rider Nicole Gorry was flying from Dublin with myself and Mark Kiely who along with Liam Collins would be looking after all of the riders for the weekend.
My training for the event almost exclusively took place on either a road or track bike on a Turbo trainer.  All cyclists know training in winter can be challenging enough but for a track sprinter it can be nearly impossible depending on location.  At these latitudes wet roads through the winter months are the norm making getting up to high speeds more difficult not to mention frequent ice, gritted roads and lack of daylight especially during the week.
With all of this to contend with a bike mounted on the Turbo in a safe and consistent place like my garage is invaluable.  On top of the Turbo training the gym work was also performed usually 2-3 times weekly.  I was happy with my form and thankfully I didn't have any current issues in terms of illness or injury to affect things so that was great.
The outward plane journey was pleasant and relaxing however we were soon in for a surprise… as we were just about to exit the plane it was announced that due to industrial strike taking place in Brussels there would be no luggage taken off the plane!  This was a disaster for the two of us who had our bikes on board and it became evident that we were not alone as thousands of travellers were also affected.  It was a long and frustrating evening but to cut a long story short we were informed that the luggage was to be sent back to Dublin and nothing could be done and that was that.
Not a great start but thankfully Liam and Mark were fast to act and were busy on the case working tirelessly to get Nicole and I sorted for the early start the next morning which was approaching fast.
8.00am Saturday morning is when we arrived at the Eddy Merckx Center in Ghent which housed the 250 meter Velodrome with dark rich haunting wooden boards bearing resemblance to a Colosseum of sorts for many legends of the sport.  For us it was off to the Belgian mechanic who was going to be sorting us out with equipment for the two days racing.
The Belgians were extremely kind to us and we were treated to great equipment which we were immensely grateful for.  With our bikes ready a short track warm was in order and it became apparent that the bike I would be riding had significantly different geometry and handling to what I am used to so I had to do my best to adapt to this quickly, then a bit of waiting and a bit of roller spinning before the 200 meter sprint qualifying.
Some very impressive times were being produced from the top French, Belgian and Dutch riders amongst others.  Unfortunately I was not so lucky and struggled a lot with the ride as my bike was wanting to go where I wasn't pointing it – but I still qualified to the heats and it wasn't too bad all things considered.  The bike was a superb machine but just not what I was used to riding.
The first sprint round was tough and I was against a top French sprinter who I knew would be a tough opponent.  I rode a very high gear and led from the bottom of the track creeping slowly whilst trying to keep an eye on my opponent then with 400 meters to go I jumped hard as the moment felt right with my opponent placed well behind me.  I opened a sizeable gap however with 125 meters to go I was tieing up and was passed by the French rider who deservedly took the win.
The next round was a repechage round with three of us on track over 750m.  I was looking forward to this and things soon heated up after we has set off with the pace increasing and a great deal of tactical action and weaving about going on, the Italian rider Davide Ceci who I have competed against before was keeping a close eye on me.  I decided to let the two others go for it and I held back – a risky move but I planned to come around the outside before the line.  I was making good progress and evidently great speed on the track but I was just a little hesitant to force myself down close to the leading riders and didn't quite have the legs to pass them before the line.  That's racing but it was great fun to be mixing it with such high caliber riders at an indoor event like this and after initial disappointment I was satisfied with my performance.
Day two was another early start for the Elite Men's Keirin.  It would be a tactical affair with lots of close riding and some hair raising moments!  I was in a heat of five riders and not the usual six as one rider had withdrawn.  My tactic was to surprise the others and try to get to the front early which I did and then kept the pace steady but not electric.  With 375 meters to go the others tried to come around me and I accordingly increased the pace to keep myself ahead, this worked for a while but soon the legs were buckling and I was passed by another rider and found myself struggling to keep a tight line on the banking.  I had a near miss with the very close nature of the racing and I did not make the qualification the semi final.
With just a 45 minute rest before the next round it would be a tough one with tired legs.  Just like the first round I got to the front early on but then I stalled the pace this time rightly or wrongly.  I was soon passed by the five others but I wasn't bothered as this is exactly what I had planned.  The pace soon picked up and I sat on at the back patiently waiting for my moment, I jumped with about 350m to go and was making pleasing progress until the riders beneath me suddenly drifted up the track just slightly into my path coming around the lead rider but this unnerved me and I overreacted by easing back momentarily and riding much higher than I should have done losing a fair bit of ground in the process, but I wasn't done.  I jumped back out of the saddle and was on my way to coming around others but suddenly two riders clipped each other and weaved around the track once again unnerving me and almost causing my life to flash before my eyes!
Unfortunately after that I had no chance to get to the front again and I was finished racing for the day but it showed me the amazing standard and bike handling capabilities of the top level European riders who could shoulder each other at 70kph and not even flinch.
What an experience to have had competing as Irish Champion and what a great feeling to know I have the legs to compete respectability with these top athletes.  It was a real shame I was riding on borrowed equipment but I did alright in the end I'm very pleased to say and I have very little to complain about!
All in all it was a great weekend of racing, our group of riders got along great and encouraged each other to perform the best we could.  A big thanks must go out to Mark Kiely and Liam Collins who were invaluable in looking after us over the weekend and their experience was greatly appreciated.
I now have areas to brush up on for indoor riding and more track time is needed but I look forward to competing in more of these level of races this season!